MBA: Master of Business Administration
Full Form of MBA is Master of Business Administration. MBA is one of the most popular post graduation program in India and world as this is the gateway to enter into the corporate world job in managerial level. MBA gives post graduation degree in business administration. The popularity of MBA is such that aspirant comes from any background whether from science, arts, commerce or engineering dreams to pursue from top MBA college of the country. For admission in MBA candidates must have a graduation degree.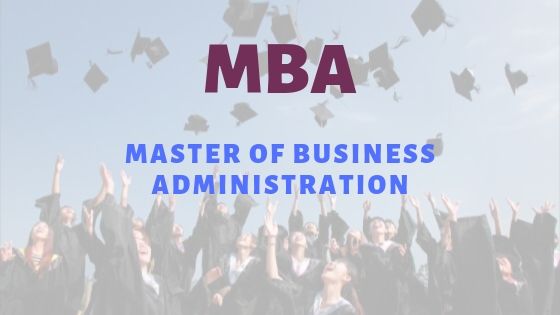 ---
History
The MBA degree introduced in the USA in the late 19th century. The first business school was the Tuck School of Business at Dartmouth College in the USA, founded in 1900.
---
Specialized courses in MBA
Apart from the generic MBA candidate can choose to be specialized to the below courses. This specialized course gives candidate practical training in the respective field.
Finance
Marketing
Sales
Human Resources
Operations
Product
Business Analytics
Digital Marketing
Entrepreneurship
Advertising
NGO Management
Pharma
Project Management
Sports Management
Telecom
Transport & Logistics
Public Policy
Infrastructure
International Business
Disaster Management
Energy & Environment
Import & Export
IT & Systems
Healthcare & Hospital
Business Economics
Agriculture & Food Business
Materials Management
Oil & Gas
Retail
Rural Management
Supply Chain
Textile Management
Forestry
Hospitality
---
Different types of MBA courses
There are several different types of MBA programs offered by universities in many countries. Some of them are as follows:
MBA (Full time)
MBA (Part time)
Accelerated MBA
PGDM (Post Graduate Diploma in Business Management)
Modular MBA
Executive MBA
Distance MBA
---
Top MBA Colleges in India:
Indian Institute of Management, Ahmedabad
Indian Institute of Management, Bangalore
Indian Institute of Management, Calcutta
Indian Institute of Management, Lucknow
Indian Institute of Management, Indore
Indian Institute of Management, Kozhikode
Faculty of Management Studies, Delhi
XLRI: Xavier School of Management, Jamshedpur
SP Jain Institute of Management and Research, Mumbai
IMT: Institute of Management Technology, Ghaziabad